Secretlab Titan XL: Chair Review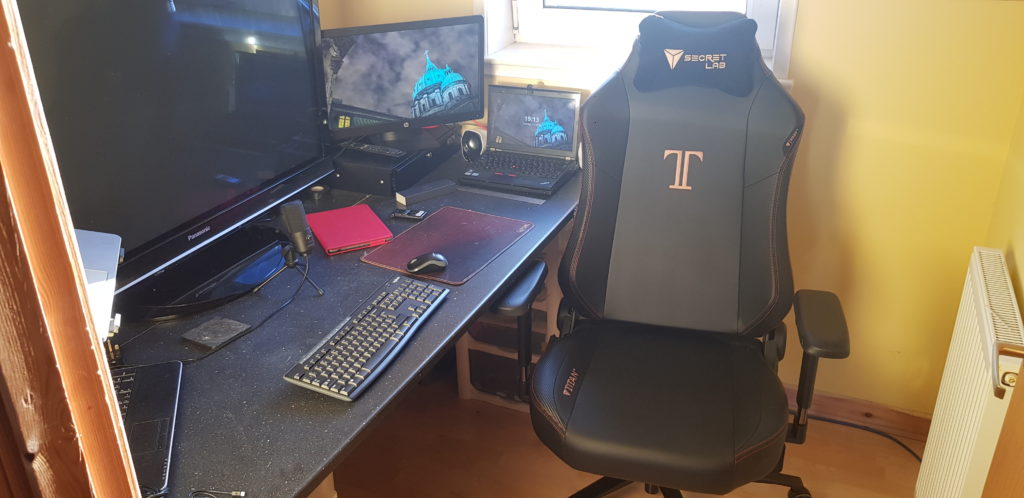 For a good few years, I have been missing a decent chair. The last good office chair I had fell apart probably a decade ago and since then, I've gotten by with any low budget chair I can find – the most recent one requiring two cushions from my couch stuffed into it to provide any back support at all.
When the full seriousness of COVID-19 situation became clear and the prospect of working from home was certain, I decided I finally needed a proper office chair. I'm a big guy and knowing that the chair in question could take my weight comfortably was of great importance. With this in mind, the Vertagear SL-5000 and the SecretLab Titan XL were the top two choices. Initially, I had decided on the SL-5000 as the price of the Vertagear chair was a bit more palatable.
Amazon had some in stock, so I put the order in. Two days later (and one day after I was expecting delivery – thanks Amazon) I got an email saying that delivery was going to take a month. So naturally, that order was quickly cancelled, and I hurried over to Secretlab.
The Secretlab website
Secretlab offers four sizes of chairs. The Throne is suitable for the smaller person, up to 165cm tall and weighing in at just under 100kg so that probably wasn't going to cut it for me, being a 6'6" tall behemoth. The Omega and Titan are closer to the mark, with greater height and weight limits (as well as a choice of 21 colours each) but the Titan XL, the bigger version of the Titan, was going to be mine.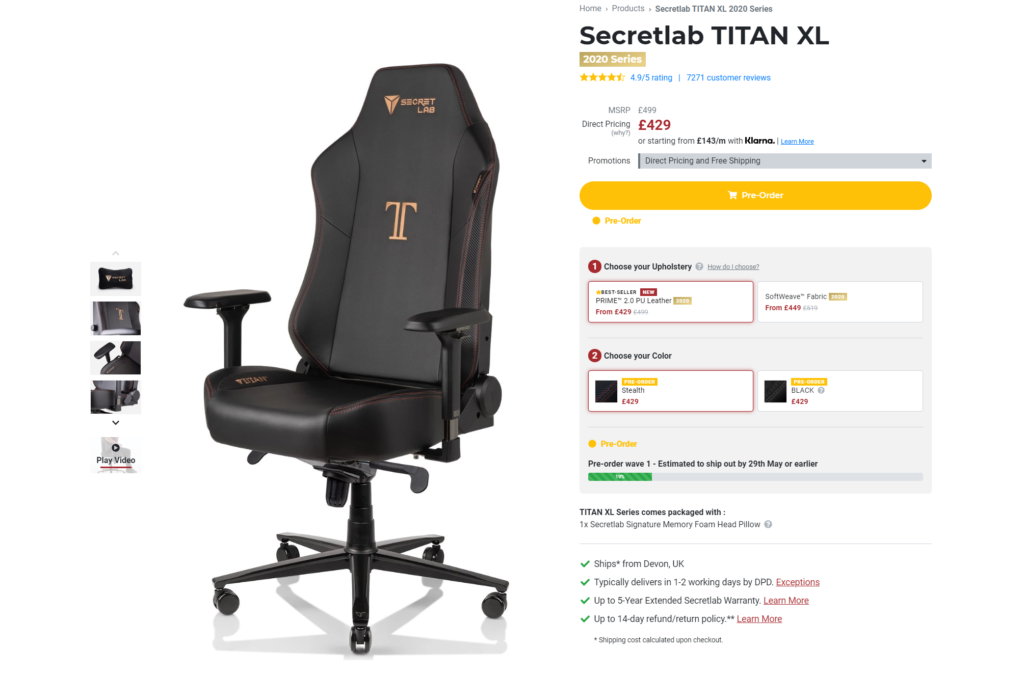 This mountain of a chair is rated for people up to 200cm and 180kg. There are two choices of upholstery: leather or fabric. The leather came in "Stealth," a red and black colour scheme and "Black," which was, well, black. The fabric, however, was available in "Charcoal Blue" and "Cookies and Cream." I liked the leather upholstery better and the Stealth colours I thought were very tidy and thus, my mind was made up. The lettering is stitched into the leather which makes it look like a very luxurious product.
Delivery and construction
The chair arrived the next day and the first thing that struck me was the sheer size of the box. Look at the size of this beast – it's enormous! The chair was beautifully packed inside along with the instructions printed on this enormous laminated poster.
The spring-loaded hinge for the back came already reclined with some pretty clear instructions to not pull the adjustment handle lest a misplaced finger be trapped in the mechanism. Assembling the Titan XL was a little trickier than more normal sized chairs due to the heavier weight and enormous bulk of the components. A second pair of hands proved to be very helpful and is definitely recommended.
One thing that wasn't clear was the orientation of the base plate on the underside of the chair. It would be better if there was a sticker or marker on the base plate which had the front and rear labelled. However, once I put the chair together and sat myself down, I was immediately thankful I got the Secretlab chair.
In addition to being a gorgeous piece of hardware for future LANs and office exploits, the backrest is very strongly attached to the base with two big steel hinges at the back. There's a big handle down the side that when you pull it allows the back of the chair to go up and down. It all feels extremely sturdy and well made. The armrests are nice and chunky with a wide area to rest your elbows on. They are comfortably firm and covered in soft leather with the SecretLab logo pressed into it.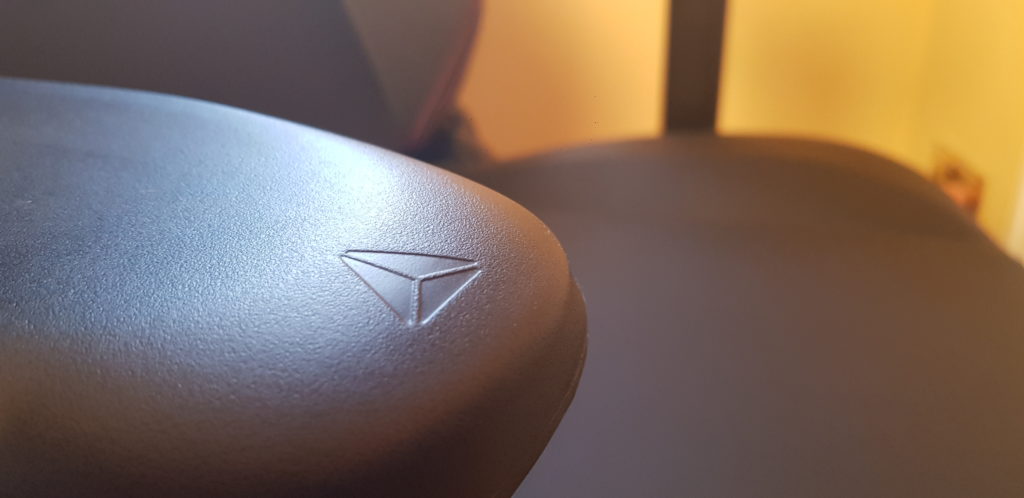 It's covered in nice touches
It also comes with a head cushion. The cushion itself is very nice but the attachment method is a bit strange. It doesn't really attach securely to the chair at all. There is an elasticated strap which you use strap it onto the back of the chair. It's not the most secure thing in the world and I can't help but think it would be better if they had maybe two small magnets to hold it in place a bit more firmly.
The chair comes with a three-year warranty as standard with an extra two years if you take a picture of your chair and put it on social media with the hashtag #secretlab. You'll also get an email with a referral link in it. If anyone buys a chair with your referral link, not only will they get a small discount, but you'll get a free bottle of upholstery cleaner.
Longer term?
It's all well and good reviewing a piece of hardware such as a chair having owned it for two weeks and saying everything is great, but quality issues aren't going to come up in two weeks. Fortunately, long-time friend and guest of ours, Cheesewheel and her brother have owned Secretlab chairs for the past year and were kind enough to send over a few pictures. The chairs are still immaculate. Not a single niggle, mark or loose screw despite regular daily use.
One downside is that the price tag is high. There happened to be a special offer on when I ordered mine, meaning I got my Titan XL for £404. However, based on what I've seen so far, I'm confident that this was a wise investment. £404 on a high-quality product that lasts at least five years is better money than my previous strategy of spending £150 every year and a half in Argos. It's hard to give this thing anything other than a perfect rating. Despite trying, I've not got any significant complaints to make… at all.
If you want to get a Secretlab chair, use this link to get it with a £20 discount. Be quick though, it's only good for two uses (may result in me getting a bottle of free upholstery cleaner).
http://secretlabuk.refr.cc/greghanson
What do you think? Right? Wrong? Another brand I missed entirely? Have your say in the comments below.